White Oak helps museums analyze operating performance and forecast realistic budgets for future operations after capital projects. White Oak's economic reports include: Museum Performance Assessments, Strategic Business Plans, Feasibility Studies, Attendance Potential Estimates, Staffing Plans and Pricing and Ticketing Policies. White Oak's decades of experience and its database on museum operations result in realistic yet flexible economic models.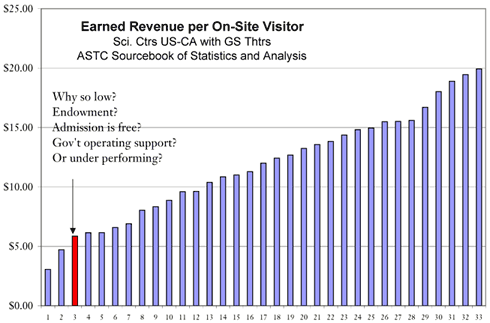 Benchmarking
Benchmarking is an important tool for existing museums and helps answer the questions: How am I doing? And what can I do better? White Oak uses data from a variety of sources to compare and benchmark your museum against other museums and museum sectors. Data sources include association directories, our database of museum operating statistics, IRS data and customized networks of museums that choose to share data with each other based on client-tailored surveys.
The two charts shown here are examples of how your museum can be compared to other museums using key performance indicators (KPIs). The chart on the left shows that the museum indicated by the red column has exhibit galleries that appear extremely crowded. This is based on the KPI of gate attendance divided by exhibit square footage. The chart on the right shows that the museum in the red column has extremely low earned revenue per visitor compared to its peers. In both cases, further analysis is needed to determine why the museum's performance is outside of the norms and whether there are mitigating factors that justify the museum's performance in that area or require a course adjustment.
Our services include:
Museum Performance Analysis and Recommendations: We will look at how your Museum is operating compared to other similar museums throughout the country. It will compare your market penetration, venue capture ratios of on-site visitors, average ticket prices, gift shop and concession sales, support revenues, personnel levels, overall expenses, and other economic indicators to national "norms" determined by the averages of five to eight similar museums in similar markets. We will draw data from AAM, ASTC and ACM databases, as well as our own database and enhance it with additional research so that we are sure that we are comparing apples to apples. The results will identify areas where you are performing on target and other areas where you may be performing above the average or under-performing. The process will also establish benchmarks for this strategic planning that can be the foundation for specific growth objectives for you and your staff in the coming years.
Typical year and multi-year operating projections: Attendance, revenue and expenses
Policy guidance workshops with board and staff to present findings and to align operating profile with mission, vision and values.
Development and review of capital budgets for expansions and new museums for strategic alignment of capital investments in anticipated revenues.
Institutional Strategic Planning Services > Facility & Architectural Development >
Executive Production Services > Museum Master Plans >